Actuarial Learning: A Guidebook to Exam Success & Workplace Advancement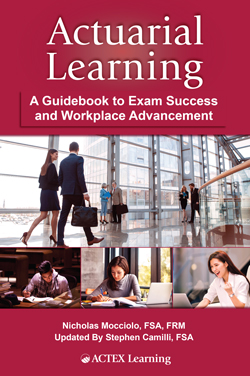 This efficient and effective book was written specifically for actuarial students and those who are considering an actuarial career. It includes detailed information on the various actuarial organizations in the United States, Canada and beyond, along with descriptions of many organizations' education programs. Topics covered include techniques to maximize success on the exams, non-technical skills critical to longer-term success in the profession, and career advice. It is a perfect single-source career development reference for aspiring actuaries.
"Given that you can spend over 300 hours studying for just one actuarial examination, it is well worth an investment of two to three hours to read this fine summary of how to study for and write actuarial exams. Written in an easy style, this book is full of sound suggestions to improve your efficiency on these trying examinations. Not only that, but if you follow the advice given faithfully, it could just make the difference between receiving a six versus a five."
-Robert L. Brown, Professor Emeritus, University of Waterloo; Past President, Society of Actuaries and International Actuarial Association
ABOUT THE AUTHORS:

Nicholas Mocciolo, FSA, FRM
has worked for over fifteen years in the insurance industry, specializing in the areas of investment management, risk management, and trading. He graduated Summa Cum Laude from the University of Connecticut with both a B.S. and M.S. in Mathematics, and with an M.S. in Operations Research from Columbia University. He attained his FSA in May 2004, having passed all of his actuarial exams on the first attempt.

Stephen J. Camilli, FSA
has taught mathematics at both the high school and university level. He has served as Director of International Risk for UNUM, working in Buenos Aires, Hong Kong and Tokyo and has experience in pension consulting with Hewitt Associates. He co-founded a network of food banks in Argentina and is fluent in Spanish. He is currently the President of ACTEX Learning.