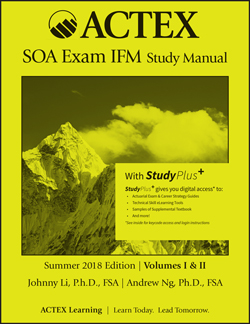 IMPORTANT: STAGED RELEASE SCHEDULE
Prior to the completion of this manual, all students purchasing this material will be provided content in stages:
First Release (Available NOW):
Modules 1 - 6
Delivered to all customers in (DRM) digital format
12-Month Digital Licenses (including as part of Bundles) - 30% printing only
Printed Manuals - 90-day Access, 30% printing only
Second Release (Available 4/12/18):
remaining material including practice exams
Printed manual & Bundle orders will receive a complete printed manual at this time.
View A Sample
Author Johnny Li utilizes a completely different pedagogical approach. By reading this manual, you should be able to understand the concepts and techniques you need for the exam. Where possible, concepts and techniques are demonstrated with examples and integrated into practice problems included in the manual.
To help you better prepare for the exam, the author intentionally writes the practice problems and the mock exams in a similar format to the released exam and sample questions. Becoming acquainted with the style and format will help you recollect information you've learned more easily and prevent you from needing "extra" time to solve problems on the actual exam.
The author has gone to the painstaking effort of putting together a manual that is targeted and focused on teaching the content specifically tested on the IFM exam, unlike the Derivatives Markets text. Li approaches the concepts in a more streamlined fashion and incorporates sample questions that have proven to accurately represent how students experience the SOA exams. The manual is broken into two broad themes: Quantitative and Qualitative.
The first part of this manual focuses on the Quantitative theme, which encompasses all of the topics covered in Derivatives Markets (the required text authored by R.L. McDonald) and the technical topics from Corporate Finance (the required text authored by J. Berk and others). To help you develop a strong foundation, we begin with the easiest calculations that are just straightforward extensions of what you have learnt in Exam FM. These are then followed by progressively harder calculations, ranging from the binomial model to various versions of the Black-Scholes formula.
The second part of the manual is devoted to the Qualitative theme, which encompasses a lot of definitions and hard facts that you have to memorize (unfortunately). There are some calculations in the Qualitative theme, but they are typically trivial. To help you breeze through this theme, the materials in this theme are presented in an easy-to-read point form, with the most important points being clearly highlighted. Of course, we have practice problems to test how well you can remember the materials.
The manual concludes with several mock exams with original questions.