Statutory Valuation of Individual Life and Annuity Contracts, 5th Ed.
Authors: Donna Claire, Louis Lombardi and Sheldon Summers
Availability:
In-Stock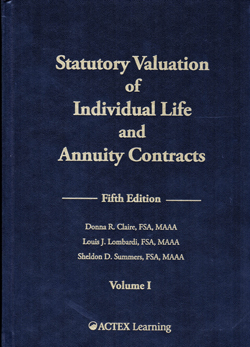 "The actuarial community will significantly benefit from this seminal text. The addition of a second volume covering Principle-Based Reserving is invaluable as the approach to life reserving makes dramatic changes from the old formulaic to a new stochastic approach. The supplementary Excel models with explicit examples of all the reserve calculations and detailed formulae are invaluable for the practicing and aspiring valuation actuary. This is a staple of life and annuity actuarial reserve literature."
-- Joeff Williams, FSA, MAAA
This book covers the basic principles of the statutory valuation of individual life insurance and annuity contracts in the United States, including experience studies, model governance, and risk-based capital. It was written both for practicing actuaries and those considering a career in financial reporting, product development or risk management. The Fifth Edition of this book, previously titled Valuation of Life Insurance Liabilities has been divided into two volumes.
Volume 1 focuses primarily on basic principles, the valuation process, model governance, and formula-based reserves.
Available now.
Volume 2 focuses primarily on principle-based reserves, experience studies, and risk-based capital. Available - Sept 2018
Read more.