Printed version available 8/3/18, digital version available now.
Actuarial Statistics with R: Theory and Case Studies
by Guojun Gan, PhD, FSA and Emiliano A. Valdez, PhD, FSA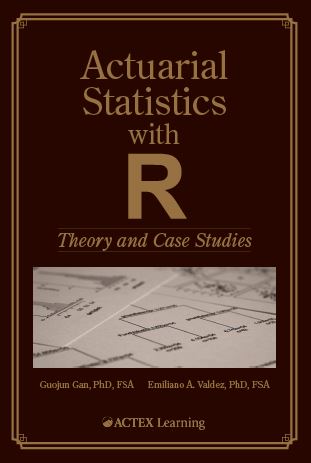 "A great introduction to statistical modeling for the working actuary or actuarial science college student—alternating between theory and application, it helps actuaries and aspiring actuaries round out their technical toolkit."
– Mary Pat Campbell, FSA, MAAA
"The case studies are relevant, timely and trigger a reader's curiosity to learn more. They also cover a broad spectrum of highly relevant issues in insurance practice and will enable the reader to immediately apply what they learned to a practical situation."
– Jan Dhaene
This book is written primarily for actuarial students and practitioners who wish to learn the basic fundamentals and applications of modern statistical methods using R programming. It provides data analytic tools utilizing supervised and unsupervised learning, as well as time series and simulation models. Twelve practical case studies demonstrate applications of topics that include generalized linear models, decision trees, principal component analysis and cluster analysis.
This book covers several topics on data analysis and statistical learning prescribed by the International Actuarial Association (IAA). In particular, it has been designed to cover the learning objectives for the SOA's Statistics for Risk Modeling (SRM) Exam. Many materials from this book also cover parts of the syllabus for the CAS Modern Actuarial Statistics (MAS-I and MAS-II) Exam. It is broadly intended for students and practitioners to learn R programming and its applications in actuarial science, finance, and quantitative risk management.
A solutions manual is also available.
Read more.