ASM is proud to announce: We're with Abe!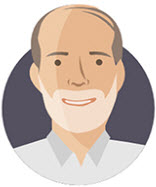 MLC Online Exam Prep Video Lecture Course to prepare you for Spring 2018
Watch Abe Weishaus talk about his course:
Click Here
Frustrated and confused? Let's change that to confident and prepared! The ASM MLC Online Exam Prep Course will give you the tools you need learn the material for the exam pass exam MLC!
Abraham Weishaus, Ph.D., FSA, CFA, MAAA, gives easy-to-understand video instruction on all the major subjects covered in the exam. Thousands of actuarial students have already benefited from Dr. Weishaus' video instruction.
The ASM manual is not included in this product. Students may want to consider purchasing the ASM Study Manual with StudyPlus+ as an additional resource to complete this study package.
Learn More and Enroll:
Click Here
Features of the Course:
18 hours of engaging instruction through lessons and exercises
Dozens of problems solved visually
Follows the ASM MLC Manual by Dr. Weishaus
Instructor support available through email
You can work on the course using your mobile device
Optional Course Materials:
ASM Exam MLC Study Manual by Weishaus. This manual includes StudyPlus+ online study tools
Course Structure:
The course is organized into 12 topic sections which follow the ASM MLC Study Manual.
Part 0 - Probability Review
Part 1 - Survival Models
Part 2 – Insurances
Part 3 - Annuities
Part 4 - Premium
Part 5 - Reserves
Part 6 - Markov Chains
Part 7 - Multiple Decrements
Part 8 - Multiple Lives
Part 9 - Pensions
Part 10 - Interest Rate Risk
Part 11 - Profit Tests
Communication with the Instructor:
Discussion Forums: There is a dedicated discussion forum in the course for public questions about the course material. The instructor will respond to questions as they are posted, normally within 24 hours.
Email: The instructor will respond to student emails throughout the course. Course questions of a general nature should be posted in the topical discussion forums for the benefit of other students. Click the "Ask Abe" button!