The SOA LTAM ASM Manual by Dr. Abraham Weishaus is now available!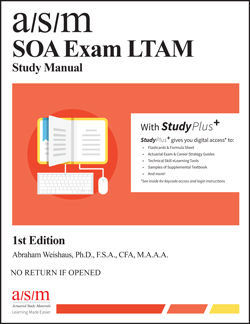 ASM Study Manual for LTAM - Long-Term Actuarial Mathematics,
WITH StudyPlus+ Online Study Tools
1st edition | Dr. Abraham Weishaus
Sample Available - Click Here
ASMís LTAM manual offers comprehensive coverage of the syllabus for the new SOA Exam LTAM. In its 75 lessons, the following topics are reviewed:
Survival models
Insurances
Annuities
Premiums
Reserves
Markov chains
Multiple decrement models
Multiple life models
Estimating mortality rates and transition intensities
Pensions
Profit tests
The 1st edition of the manual has
over 2000 pages and over 1800 end-of-lesson exercises, including over 750 original and 1050 old exam questions, plus over 350 examples and 90 in-lesson exercises.
In addition to these exercises, there are
thirteen practice exams, all having 20 multiple choice and 6-7 written answer questions, just like the real exam.
An appendix has a cross reference to help you track down lessons corresponding to the SOA 322 sample questions and questions from released exams 2000 and later, and there is an index. Many students have found these manuals adequate by themselves for exam preparation, but the textbook for the exam is referenced in each lesson if you wish to use it.