02-10-2020, 03:19 PM
Mary Pat Campbell

SOA AAA

Join Date: Nov 2003

Location: NY

Studying for duolingo and coursera

Favorite beer: Murphy's Irish Stout

Posts: 91,290
---
this is not only mortality, but here goes:
https://twitter.com/trevornoren/stat...85086990249989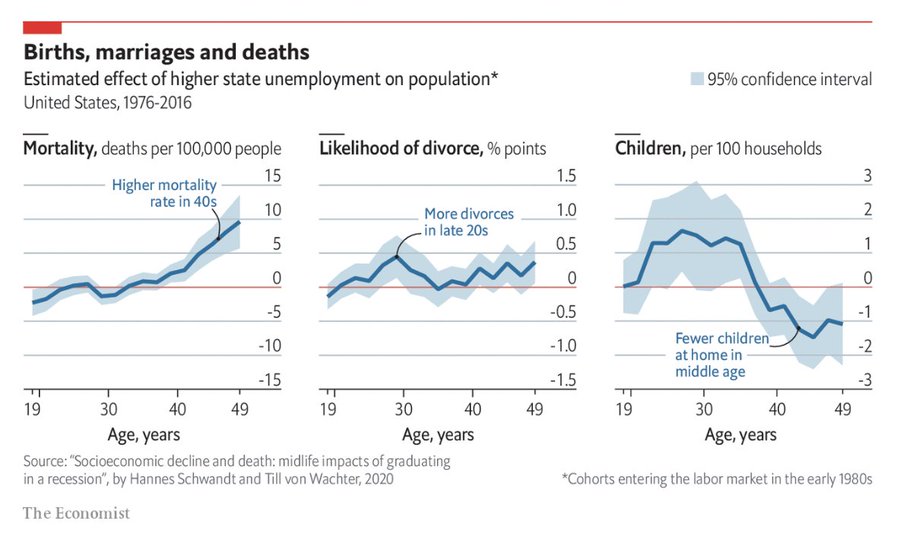 https://www.economist.com/graphic-de...ir-whole-lives
Quote:
Starting work in a recession affects people for their whole lives
Downturns are linked to deaths and divorces long after the economy has recovered



wotking paper:
https://www.ipr.northwestern.edu/our...inkId=81059191
press release:
https://news.northwestern.edu/storie...arch-suggests/
excerpt:
Quote:
Schwandt and von Wachter analyzed outcomes for people who entered the job market during the historic economic downturn of 1981 and 1982. Prior to 2007, the recession of the early 1980s was the worst economic downturn in the U.S. since the Great Depression. But the Great Recession triggered by the bursting of the housing bubble and the subprime mortgage crisis has since eclipsed the 1980s recession in terms of length and GDP.

In middle age, unlucky labor market entrants earn less and work more while receiving less welfare support. They are also less likely to be married, more likely to be divorced, and less likely to be cohabitating with own children, the study found.

A related 2014 study by Schwandt and Janet Currie of Princeton University showed that recession exposure in early adulthood reduces lifetime fertility for women. There is also evidence that male college graduates from the 1982 recession experience worsening self-reported health in middle age.

The new study makes use of several large cross-sectional data sources, and a novel approach to estimate midlife effects of entering the labor market in a recession on mortality by cause and various measures of socioeconomic status.

To analyze effects in middle age, the researchers focused on cohorts entering the labor market in different U.S. states before, during, and after the 1982 recession. They used Vital Statistics data from 1979 to 2016 and population estimates from the Census and the American Communities Survey (ACS) to construct mortality rates, which are regressed on the state-level unemployment rate that a cohort faced at the time of graduation. Information on socioeconomic outcomes, including earnings, labor supply, marital status, divorce, and cohabitation was derived from the Decennial Census (Census), the ACS, and the Current Population Survey (CPS).


This looks like the final paper:
https://papers.ssrn.com/sol3/papers....act_id=3518251