01-08-2018, 10:32 AM
SOA AAA

Join Date: Jun 2016

Posts: 25
Now Available: New 12th Edition ASM FM Study Manual
---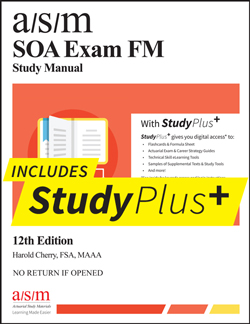 ASM Study Manual for Exam FM, 12th Edition with StudyPlus+
The 12th edition of the manual has the following features:
The manual conforms to the syllabus updated in June 2017 and is relevant through the August 2018 sitting of exam FM.
The concepts of financial mathematics are explained in plain English, in a manner that appeals to your intuition and common sense.
The manual shows you tricks and shortcuts for various types of problems, warns you about common traps that students fall into, and tells you how to avoid them.
Over 1,000 problems with detailed solutions, about half of them from prior SOA/CAS exams and half that are original to the manual.
After each topic there are examples called "Stepping Stones" that are designed to tell you whether you have understood what you have just read, and to serve as a bridge to more difficult exam-level problems.
There is a summary of the key concepts and formulas after each topic.
There are 9 sets of Calculator Notes that give you detailed instructions for using the BA II Plus calculator.
Six original full-length (35 questions) practice exams, with complete solutions are included.
Over 600 pages in all.
---
Last edited by asm_studymanuals; 01-08-2018 at

10:39 AM

..