This manual is now available.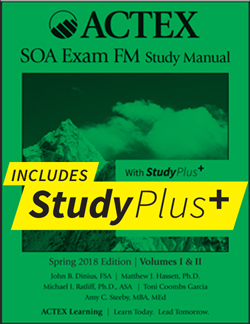 ACTEX Study Manual for SOA Exam FM, Spring 2018 with StudyPlus+ (online study tools)
Author: John Dinius, FSA
Availability: In-Stock
The ACTEX Study Manual for the Society of Actuariesí Exam FM is comprehensive and is written in an easy-to-understand style, providing thorough explanations of all the Exam FM topics, from the basic material to the most difficult topics. Concepts are introduced in a clear way so that students can quickly understand new topics.
NEW IN THE SPRING 2018 EDITION: Expanded section on interest rate swaps. SOA Sample questions from February 2017 with worked solutions. Further clarification on some more difficult material. Plus, correction of all known errata.
View a sample