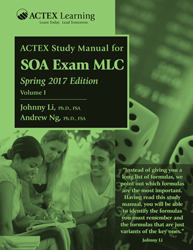 ACTEX Study Manual for SOA Exam MLC, Spring 2017 Edition, With Bonus Formula Card!
View Sample
The ACTEX MLC authors had students in mind when designing and writing this manual. It focuses on providing the understanding that is required to solve practical problems in an exam setting. Theoretical concepts are introduced through motivating examples to make learning as direct as possible.

"I found the ACTEX Exam MLC Study Manual to be very helpful at simplifying difficult concepts, and it also provided lots of examples for practice."
-- MLC Student
Published in spiral-bound volumes, this manual covers all topics in the current SOA Exam MLC syllabus. Old exam problems that are applicable to the current exam syllabi are integrated into the text as an additional teaching opportunity. Each chapter then concludes with practice problems. At the end of the manual there are complete sample exams offering additional practice.
This edition has been updated for the spring 2017 SOA MLC Exam AND includes a BONUS Formula Card!