ACTEX Study Manual for CAS Exam MAS-I
with StudyPlus+ (Online Study Tools) & PASS GUARANTEE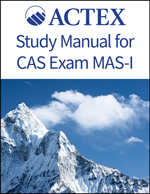 The objective of the ACTEX CAS Exam MAS-I Study Manual is to help students grasp the material in the new Exam MAS-I effectively and efficiently, and pass it with considerable ease. It fosters genuine and thorough understanding of the syllabus topics and discourages rote learning. Each chapter and section of the manual starts by explicitly stating which learning outcomes and knowledge statements of the exam syllabus we are going to cover, to let students know that we are on track and hitting the right target. The knowledge statements of the syllabus are then demystified by precise and concise expositions synthesized from the syllabus readings and a wealth of illustrative examples, which are original or taken from relevant past exams and/or required textbooks. Intuitions and mnemonics are emphasized, so are highlights of important exam items and common mistakes committed by students.
The manual is an ideal study aid for students intending to take Exam MAS-I as well as for instructors who teach related actuarial and statistics courses.
NEW for FALL 2018 edition:
Some expositions have been updated and the solutions to the Spring 2018 Exam MAS-I are included. In addition, there are corrections to all known errata.
View a sample