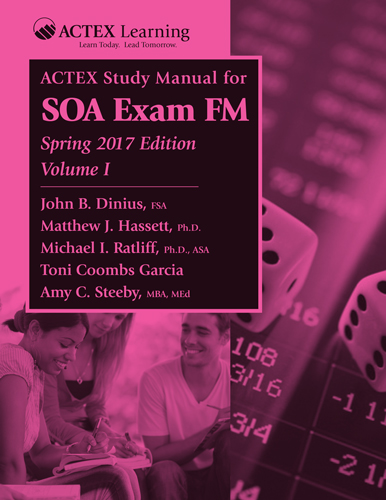 ACTEX Study Manual for Exam FM, Spring 2017 Edition with BONUS Formula Card!
This Edition is for use on the June 2017 exam & later ONLY.
NEW AUTHOR: John Dinius, FSA
The ACTEX Study Manual for SOA Exam FM
is comprehensive and is written in an easy-to-understand style, providing thorough explanations of all the Exam FM topics, from the basic material to the most difficult topics. Concepts are introduced in a clear way so that students can quickly understand new topics.

The manual has been extensively revised and updated to reflect changes in the SOA syllabus for Exam FM that will be effective with the June 2017 administration of the exam.
The new syllabus has eliminated most of the material on Financial Derivatives, but has increased the emphasis on one type of derivative: Interest Rate Swaps, including a new study note on this topic. The revised FM manual covers this material in a newly written module on Interest Rate Swaps. The revised syllabus also includes new study notes on "The Determinants of Interest Rates" and "Using Duration and Convexity to Approximate Present Value." This material is covered in a newly written module on Determinants of Interest Rates plus an expansion of the module on Asset-Liability Management. In addition, many sections of the other modules in the manual have been revised to provide additional explanations, examples, and solutions.
Among the many features of this manual are detailed review examples and exercises embedded into the text, so that students can see how to apply each new concept as it is learned. There are many additional practice problems at the end of each module, along with a summary of the key formulas introduced in the module. Also included are three "mid-term" exams at the end of major topics, which allow the student to gauge his/her progress.
Keep reading...
View a Sample attached that includes the Table of Contents