ACTEX Study Manual for SOA Exam IFM - Investment & Financial Markets | Spring 2019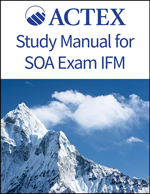 Author Johnny Li utilizes a completely different pedagogical approach. By reading this manual, you should be able to understand the concepts and techniques you need for the exam. Where possible, concepts and techniques are demonstrated with examples and integrated into practice problems included in the manual.
To help you better prepare for the exam, the author intentionally writes the practice problems and the mock exams in a similar format to the released exam and sample questions. Becoming acquainted with the style and format will help you recollect information you've learned more easily and prevent you from needing "extra" time to solve problems on the actual exam.
The author has gone to the painstaking effort of putting together a manual that is targeted and focused on teaching the content specifically tested on the IFM exam, unlike the Derivatives Markets text. Li approaches the concepts in a more streamlined fashion and incorporates sample questions that have proven to accurately represent how students experience the SOA exams. The manual is broken into two broad themes: Quantitative and Qualitative.
View a sample