For those looking for study materials, I recommend the Actex P/1 Study Manual along with TIA's four free sample exams.
Using these, I was able to pass on my first try after two months of studying
.
Now that I'm done with the manual, I'd like to sell it for
$70, shipping to US/CA included
.
The book is in like-new condition, with no markings, creases, or tears.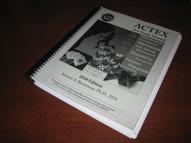 SOLD, NO LONGER AVAILABLE.